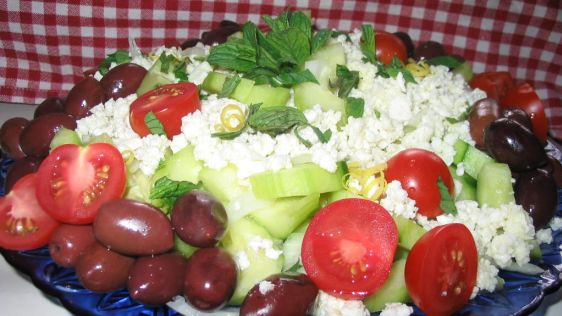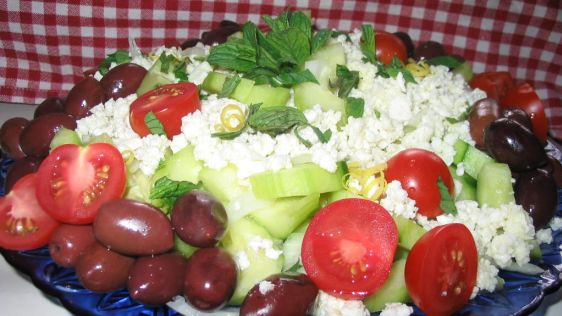 Eggplant Salad
Grilled eggplant and bell peppers are often on the menu during my winter stays in Turkey, where vegetables are typically cooked on a coal grill in the garden in the evening.
Ingredients
2 large cucumbers, peeled

2 tablespoons chopped of fresh mint

6 ounces feta

1⁄4 cup finely chopped scallion

2 tablespoons lemon juice or 2 tablespoons white wine vinegar

1 teaspoon olive oil

fresh ground black pepper
Directions
If you want to reduce the salt content of the feta, cut it into chunks and soak in cold water for an hour.
Score the cucumbers with the tines of a fork, and cut them in half lengthwise. Remove the seeds – a grapefruit spoon or melon baller works well. Sprinkle the cucumbers with salt, and let them stand for about 1/2 hour.
Then rinse, pat dry, and slice the cucumbers into 1/2 inch chunks.
In a medium serving bowl, crush the feta with a fork and mix it with the scallions, lemon juice, oil, and pepper.
Combine the cucumber chunks with the cheese mixture.
Sprinkle the salad with the mint.
Additional Tips
It can sit in the refrigerator before serving, but try not to hold it more than an hour or it will get watery.